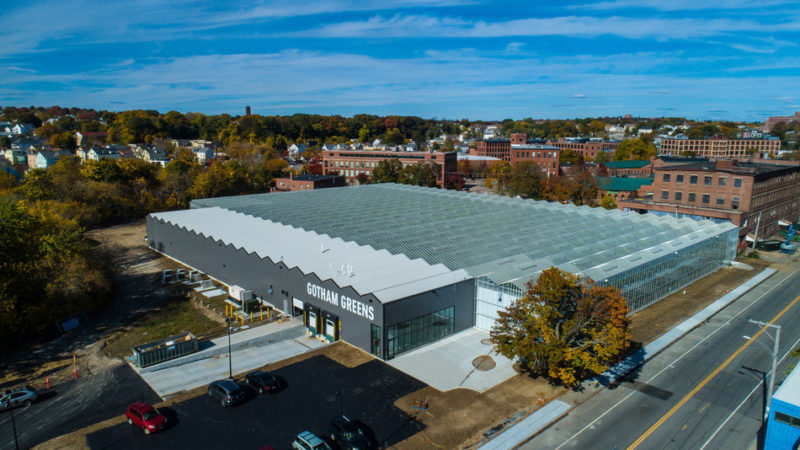 Gotham Greens Expands into New England
Rhode Island Gov. Gina M. Raimondo, Providence Mayor Jorge O. Elorza and community leaders today joined Gotham Greens to celebrate the grand opening and first harvest at the company's newest greenhouse.
Gotham Greens converted the site of a former General Electric lighting factory into a 100,000 square foot, high-tech greenhouse located along Providence's Woonasquatucket River.
The new indoor, urban farm marks the Brooklyn, N.Y.-based company's expansion into the New England market, enabling Gotham Greens to deliver a year-round supply of fresh, local produce to retail, restaurant and foodservice customers across the region.
Gotham Greens leafy greens, herbs, salad dressings and pesto dips are available at a variety of national and local grocery retailers across New England, including Whole Foods Market, Dave's Marketplace, Shaw's and Star Market.
The greenhouse will produce more than 6 million heads of lettuce annually, including regional favorites such as New England Crunch. Gotham Greens' fresh basil is a signature ingredient in the company's refrigerated salad dressings and pesto sauces, some of which are produced in Massachusetts.
"We're on a mission to transform how and where fresh produce is grown," said Viraj Puri, co-founder and CEO of Gotham Greens. "Since announcing our expansion into New England, we continue to feel inspired by the city, state and region's legacy of manufacturing and local food culture. We have received tremendous support from elected officials, retailers, restaurants and our community, who love that we can provide a reliable, year-round supply of fresh and safe produce."
The new facility will create approximately 60 full-time green jobs in Providence and 300 nationwide. The company donated a portion of its land to the city and is collaborating with the Providence Redevelopment Agency to create a publicly accessible bike path along the Woonasquatucket River.
For more information or to schedule a tour of Gotham Greens' Providence greenhouse, please visit www.gothamgreens.com.