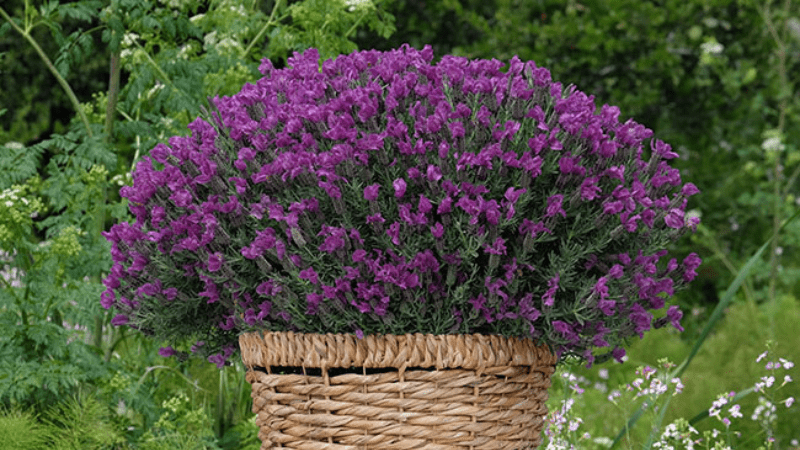 Let's have a sneak peek at CAST
It's almost time to see the newest selections at California Spring Trials. Here's a preliminary look at some of the varieties that will be introduced for 2024.
California Spring Trials will be showing off the latest and greatest in new variety introductions from dozens of breeders this year. People from the industry will be traveling to California from all over to get the chance to see these beauties in person. Don't miss the fun from March 29 through April 2.
For now, here is a little preview of what you can expect to see at the 2023 event.
CAPSICUM 'ONYX ORANGE'
American Takii
'Onyx Orange' has striking black/dark purple foliage that contrasts with the vibrant, round, orange fruit that is produced in clusters all over the plant. It has an attractive, compact, branching habit that makes a lovely presentation even without fruit. Best in 6-inch and gallon pots.
PETUNIA 'CRAZYTUNIA COSMIC VIOLET'
Westhoff
This exceptional new variety features very large, deep violet blooms with a bright, lilac margin. It is part of the Cosmic family of petunias, making it ideal to mix with others of its family or in combos for a truly out-of-this-world combination planter.
TRADESCANTIA 'TRICOLOR POWER'
Jaldety
Attractive white and green striping with pink edge leaves and light purple on the underside provide a bold and showy color effect indoors and out. Great use in big containers for patio and decks, mix borders, gardens, and beds. Heat and drought tolerant, easy to grow, and low maintenance.
MANDEVILLA 'SUN PARASOL GIANT PEACH SUNRISE'
Suntory Flowers
Sun Parasol Giant varieties are the true, classic vining mandevilla with large flowers. Giant Peach Sunrise produces gorgeous, multi-tonal blooms that start out dark peach and lighten with age. Throats are golden yellow with a red-orange ring. Perfect for premium trellised containers.
DIANTHUS 'AMERICAN PIE BERRY À LA MODE'
PlantHaven
This dianthus has large, single blooms with timeless elegance on blue-green foliage and fragrant flowers. Its hundreds of blooms in spring are pure white with unique magenta centers, carried on sturdy stems that do not flop, and repeat in summer and fall.
DAHLIA 'REVELATION PINK'
Dümmen Orange
The new Revelation series will become the standardbearer for uniform timing and habit in dahlias. Each of Revelation's five new colors is exploding with large, semi-double flowers held aloft on strong stems above dark-green foliage. Revelation's vigor makes these dahlias an excellent choice for both large containers and landscape plantings.
ECHIBECKIA 'SUMMERINA GLOW SUGAR SHAKE'
Pacific Plug & Liner
Sugar Shake is a fully double variety with a vigorous plant habit and availability starting in 2024. Flowers appear almost zinnia-like with terra cotta undertones and a cherry pink overlay.
ALSTROEMERIA 'SUMMER PARADISE SUMMER HEAT'
HilverdaFlorist
The Summer Paradise Summer series is the tallest and most vigorous garden perennial in the HilverdaFlorist alstroemeria assortment. These plants produce an unbroken display of flowers from May until November. Every year the plant gets more vigorous, like a true superstar perennial.
PETUNIA 'TUMBELINA SCARLET RIPPLE'
Cohen
This new variety from the leading double-flowered series is bred by Kerley in the UK. Exciting bicolor red and yellow, medium to large double flowers with a trailing habit. Produced from clean, certified stock by Cohen.
CYCLAMEN SUPER SERIE DJIX
Schoneveld Breeding
The cheerful Super Serie Djix, with its downward-facing flowers, is currently available in Red and Wine Red, and in the next season will include a new, third color: Salmon Pink.
LAVANDULA 'BEEZEE DARK BLUE'
Hishtil
A new hardy, compact and exciting Lavandula angustifolia series with similar characteristics, the masses of flowers will attract and keep the bees busy during the long flowering season.
MYRTACEAE 'REY'
Nir
'Rey' is a new intergeneric hybrid variety. It's a perennial shrub with uniquely fuchsia-colored, fivepetal flowers with a crown-like center. The vase life of each flower is up to three months. 'Rey' flowers from early winter to summer and can tolerate light frost.
CANNA SUNNY SERIES
Saad-Assaf Nursery
Saad-Assaf's Canna Seeds program has unique Canna indica varieties grown especially for seeds. Its main strengths are vigorous growth, strong structure and large flowers compared to other seed-raised canna. These are the largest canna blooms grown from seed.
KALE 'RAINBOW CANDY CRUSH F1'
Prudac
'Rainbow Candy Crush F1' is a pink, edible, ornamental kale. It has an upright growth habit and forms a nice, rounded bush when mature. Suitable for pots, containers, small space gardening and open-field production. This kale has a vibrant pink and purple center with bright green edges.
VIOLA 'COLORMAX BLUE JEANS'
Sakata Seed America
Blue jeans are in! This new 'ColorMax Blue Jeans' is a unique color addition to the series. With early flowering, this viola is excellent for the spring or fall; it has better heat and cold tolerance than pansies. The extra-large flowers match the rest of the ColorMax Viola series.
RUMEX 'TWISTER COPPER RED'
Hem Genetics
An unusual dock/sorrel with narrow coppercolored leaves and wiry, contorted flower stems. It has a mounding, spreading habit, which creates a unique item to add color and texture to the landscape and mixed containers, plus tart lemony foliage for salads.
BEGONIA STONEHEDGE SERIES
Benary
Benary's newest begonia series, Stonehedge, is the first interspecific multiflora begonia. It offers extreme vigor and branching — growing up to 48 inches. The excellent heat tolerance, well-branched, mounded habit and eye-catching bronze foliage make it the perfect premium product for landscapes and large containers.
PELARGONIUM GRACE SERIES
Beekenkamp
Introducing this year, the interspecific pelargonium Grace series offers the best of both zonal and ivy geraniums. Excellent for landscapes and containers with a branching and mounding habit. Great drought and heat tolerance.
FUCHSIA 'LEONITA DOUBLE BLUSH-VIOLET'
Benary+
Freshen up your hanging basket program with 'Leonita Double BlushViolet'. Early to flower, with large, bold, double blooms. The entire Leonita series has excellent branching and a compact habit, to help you create an outstanding 10-inch hanging basket program. Also great for 1.5-quart programs.
SAXIFRAGA 'ALPINO EARLY DEEP RED'
ThinkPlants (Syngenta Flowers)
New improvements to the Alpino Early series include better flower form and plant habit. Needs bulking and vernalization to bloom. Alpino Early is two to four weeks earlier than the Touran series, is free flowering with large blooms and has seven great early season colors.
PETCHOA 'CALIBURST YELLOW'
PanAmerican Seed
The first petchoa from seed, Caliburst is vibrant yellow and provides an economical option for growers wanting the same easy production for large containers with the intensity of vegetative coloring. Caliburst has a naturally compact/medium habit without the need for PGRs, and makes a great mixed container component.
LANTANA 'PASSIONFRUIT'
Ball FloraPlant
This is a new trailing, "spreading" lantana that has abundant flowers and dark green foliage. It's the perfect habit for hanging baskets. Plants produce multi-color flowers that are ideal for monocolor containers. Best of all: It never cycles out of flower.
PETUNIA 'SWEETSUNSHINE MAGENTA SKY'
Selecta One
The first Sky pattern in double petunias! The flowers of this series hold up in all weather conditions. Magenta Sky is a unique, eye-catching color and pattern that will wow at retail. Plants are well-branched and excellent for attractive hanging baskets.
ECHINACEA 'DOUBLE SCOOP WATERMELON'
Darwin Perennials
The Double Scoop series has four new colors for 2023. These new varieties bring the branching, high flower count and timing of the Sombrero series to the Double Scoop line. More compact than typical double-flowered echinacea, with more reliable first-year flowering.
HYDRANGEA 'TABLETENSIA BLUE'
Ball Ingenuity
A one-of-a-kind hydrangea that is low growing, making it perfect for bowl use. An ideal option as a table centerpiece indoors or outside on a patio in a sheltered area. These should be transplanted into an 8-inch bowl for growing on/finishing.
CYCLAMEN MIDI+ INDIAKA MIX
Morel Cyclamen
Distinguished by its unique two-tone color combination, the new Midi+ Indiaka mix is the blend of four exceptional shades of the series. Plants are early and synchronized for flowering. Ideal for 4- to 6-inch pots with excellent plant shelf life.
TOMATO 'LOVE GOURMANSUN SUNRISE'
Burpee Home Gardens
Indeterminate-type plants produce beautiful, flaming yellow bicolor beefsteak tomatoes. Everyone will fall in love with this tomato and its great-tasting, heart-shaped fruit. Approximately 85 days to harvest. Plants have disease resistance for better home garden success.
LAVANDULA 'PLUM POWER'
Southern Living/Sunset Plant Collections
New, heat-loving Spanish lavender with a unique vivid fuchsia color. Open habit allows for better air circulation, which equals fewer disease issues. Reblooming in cooler climates. Hardy to USDA Zones 8 to 10.
BEGONIA ADORA SERIES
Sygenta Flowers
New for 2023, the Adora begonia series boasts striking dark foliage and masses of petite double flowers. Its well-branched, mounded habits work across a range of container sizes and thrive in both sun and shade applications.
CALIBRACHOA 'LIA SPARK PINK'
Danziger
Danziger's medium vigor calibrachoa series will get an electric new pattern in 2024. 'Lia Spark Pink' brings beautiful pink blooms highlighted by a sunburst eye pattern to the series. These well-branched calibrachoas create stunning baskets and combinations.
STREPTOCARPUS 'LADYSLIPPERS CHERRY ICE'
Green Fuse Botanicals
The explosion of popularity in houseplants helps us all have strong off-season sales. The new 'Ladyslippers Cherry Ice' will keep this trend going strong. Deep cherry-colored blossoms will bloom every day indoors or a shady spot on the porch. Ease of care for the consumer ensures years of flowers.
For an enhanced reading experience, view this article in our digital edition by clicking here.